CONCERT #4: All-Orchestra
Saturday, March 7, 2015 @ 7:00 p.m. – Albany First United Methodist Church
Sunday, March 8, 2015 @ 4:00 p.m. – Ashbrook Independent School
RAVEL, Pavane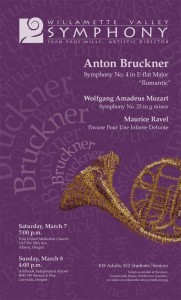 pour une infante defunte
MOZART, Symphony No. 25
BRUCKNER. Symphony No. 4 in E-flat Major "Romantic" (1880 – Haas)
The concert opens gently with Ravel's Pavane with its beautiful and haunting melody. Mozart's Symphony No. 25 provides a nice contrast in both mood and style to the Ravel. If you've seen the movie Amadeus, you'll immediately recognize the opening motifs.
Bruckner's Fourth Symphony, subtitled "Romantic", in its original version evoked images of medieval knights, castles, damsels, and hunting.  The 1880 version of this impressive symphony is a wonderful showcase for the entire orchestra but most notable for our brass section, and the French Horns in particular.
DOWNLOAD PROGRAM NOTES

BRUCKNER Symphony No 4 in E-flat Major Romantic
CONCERT #5: Victor Steinhardt, piano
Saturday, May 16, 2015 @ 7:00 p.m. – First United Methodist Church, Albany
Sunday, May 17, 2015 @ 4:00 p.m. – Ashbrook Independent School
Ludwig van BEETHOVEN. Leonore Overture No. 3, opus 72b
Robert SCHUMANN, Piano Concerto in a minor, opus 54
VICTOR STEINHARDT, piano
Jean SIBELIUS, Symphony No. 2 in D Major, opus 43 
Victor Steinhardt, piano, performs Schumann's Piano Concerto in a minor. Possessing a quasi-symphonic character, Schumann's concerto is a work of great structural integrity and thematic connection. The concert opens with Beethoven's Leonore Overture No. 3.  Sibelius' Symphony No. 2 anchors the second half of the program. The musical materials and orchestral sonority of this work evoke the cold, massive, unmistakable Nordic sound that has come to be associated with Sibelius.
DOWNLOAD PROGRAM NOTES
BEETHOVEN Leonora Overture No 3
SCHUMANN Piano Concerto in a minor opus 54
SIBELIUS Symphony No 2 in D Major