The Artistic Director presents a lively and engaging discussion on the concert, music in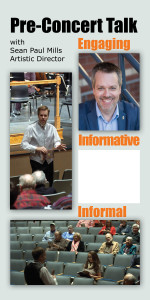 general and other topics of interest to the audience.  You are welcome to engage in dialogue with the conductor and ask questions. The format is informal.
NEW FOR THE 2017-18 SEASON:  Pre-concert talks will begin 45 minutes before each concert and last approximately 30 minutes.
On Saturday nights in Albany, talks will be in the Chapel beginning at 6:15 pm.
On Sundays at Ashbrook, talks will in the concert hall beginning at 3:15 pm.
Please join us for these FREE, engaging exchanges before each concert.