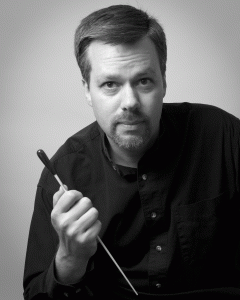 A native of Eureka, California, Dr. Sean Paul Mills has performed as conductor or cellist in California, Oregon, Arizona, Iowa, Illinois, Switzerland, France, Germany, and Austria as a member of the Humboldt Symphony, the Humboldt Chamber Players, the Oregon Mozart Players, the Oregon Bach Festival Orchestra, the Quad City Symphony, the Oregon Coast Music Festival Orchestra, and other ensembles. He studied conducting with Dr. Phillip Kates, Dr. Madeline Schatz, Marsha Mabrey, Dr. Royce Saltzman, and James Dixon, and cello with Horatio Edens, Dr. J. Robert Hladky, Terry King, and Charles Wendt.
Sean has served on the faculties of Grinnell College, Kirkwood Community College, Coconino Community College, and Chemeketa Community College. He is a Founder of the Flagstaff Light Opera Company, and has served as conductor of the Flagstaff Light Opera Company Orchestra, Coconino Community Orchestra, Coconino Chamber Orchestra, and Northern Arizona Chamber Orchestra as well as served as the Director of Music at The Church of the Red Rocks, as the Artistic Director & Conductor of the Red Rock Community Chorale, Choir Director at First Christian Church of Corvallis, and as Music Director of the Verde Valley Sinfonietta. He is an active member of the League of American Orchestras, the Conductors Guild, the College Orchestra Directors Association, and the Foundation to Assist Young Musicians.
He attended Humboldt State University, the University of Oregon (Bachelor of Music and Master of Music degrees), and the University of Iowa (Doctor of Musical Arts in Violoncello Performance and Pedagogy). In addition to serving as Artistic Director of the Salem Philharmonia, Sean is the Artistic Director of the Willamette Valley Symphony, cellist with the Arioso Chamber Players, and guest conducts throughout the region. He lives in Albany with his wife, Susana (Vice Provost of Academic Programs & Learning Innovation and Full Professor of Spanish Linguistics & Diversity Advancement at Oregon State University), son, Daniel, Bernese Mountain Dog, Boomerang, and Beagle, Luz.
Please visit his personal website at www.seanpaulmills.com for more information about our remarkable conductor.